It was a privilege to discuss our commitment to affordable dental care for all our patients on ABC The Business this week. Collaroy Dental has adopted interest free payment plans to improve the accessibility of dental treatment for all our patients. To find our more, read this article by ABC Finance Correspondent Phillip Lasker.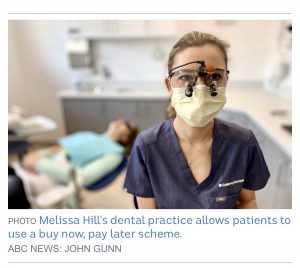 At Collaroy Dental we are constantly looking for ways to make your dental care more affordable. We believe that everyone should be able to access the services they need, when they need it. Patients shouldn't have to compromise the quality of their treatments because of financial constraints. Not only do we offer an affordable cap on the pricing of New Patient Check-up & Cleans, but we also give you the choice of two interest free payment plans, including Zipmoney.
Collaroy Dental is an early adopter of interest free payment plans in the dental industry. This gives our patients the freedom to manage the cost of their treatment with easy, regular payments! It is possible to pay off your balance over time in flexible instalments that suit your lifestyle.
We treat many young families that are starting their lives and juggling the expenses that come with it. We also care for many elderly patients that are no longer in the workforce. These pressures, combined with the rising cost of living can be stressful. Our hope is that affordable interest free dental plans will alleviate some of these pressures and allow people to budget more effectively.
Talk to us about how an interest free dental plan can work for you!
Find available appointments
Back to Blog